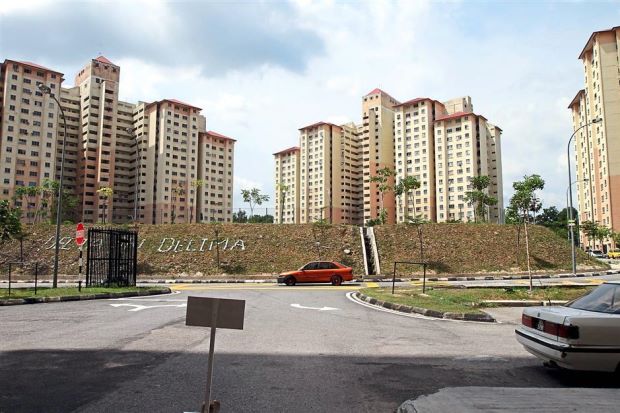 In view of the difficulty faced by low-wage earners in owning homes in the country, the Government has come up with a plan to build one million affordable homes within two years.
Housing and Local Government Ministry's director of policy and strategic planning division Gurdev Singh said the construction of the affordable housing would be coordinated by the National Housing Department.
"The National Housing Department will not only oversee the construction work but address related issues such as public transportation and infrastructure," added Gurdev.
In Selangor and Kuala Lumpur, a total of 37,946 units come under the People's Housing Programme (PPR).
"From 2011, rental for these units have remained at RM124 a month.
"The selling price of these houses was between RM30,000 and RM35,000 per unit in peninsular Malaysia and RM40,000 in Sabah and Sarawak.
"The owners are allowed to sell these properties after 10 years at market prices.
"However, the setback here is that there is nobody to control the buy-back rate of these houses," he said at the "Relook at Living" housing forum held at Universiti Putra Malaysia.
Gurdev said under the existing policy, ownership for houses under the PPR programme would only be applicable in the rural areas while the urban units would only be available on a rental basis.
In an ideal world, these units, no smaller than 700sq ft (65sq m) with three bedrooms, two baths, a living room and kitchen would have enabled communities to thrive and prosper.
In comparison, houses under such a scheme in Bangkok only measure 240sq ft (22sq m).
The houses here also come with amenities like the allocation of car parking bay per unit, something unheard of in Hong Kong.
But according to Gurdev, there is an attitude problem among some PPR unit dwellers.
"The rental may be low but many do not bother paying because they feel government housing should be free.
"The attitude problem extends to issues like vandalism and cleanliness," he added.
This lackadaisical attitude has not only given rise to maintenance problems but necessitated the need for a disciplinary body to deal with rent defaulters.
"Only 5% of the residents are genuinely in need of financial assistance.
"For this, there is a scheme to help them," he added.
Another major issue is havingto mobilise enforcement to flush out foreigners who are living in these housing schemes meant exclusively for Malaysian citizens.
Persatuan Akitek Malaysia (PAM) president Chan Seong Aun, who was also at the forum, said awareness programmes to inculcate a sense of belonging to a community may help.
However, Chan stressed in order for communities to thrive in these housing projects, consideration must be given to crucial aspects such as safety, design aesthetics and culture.
The other key factor is quality. Design alone, said Chan, can affect quality by 50%.
Prof Dr Tajuddin Mohamad Rasdi from Faculty of Engineering and Built Environment at UCSI agreed with Chan.
Examples of poor design are windows facing the blank wall of another building and windows that allow passers-by to see right into a house.
"When we speak of housing, we must raise pertinent questions to the architects responsible. Will our children be safe? Is there space for them to grow socially?
"Will residents be able to fulfil their spiritual needs here and grow old gracefully?" said Dr Tajuddin.
Projects like this, he stressed, eventually required a level of experience, one that required knowledge of religious rituals and values of the different races right down to work, play and recreational patterns of low and middle income homeowners.
Dr Tajuddin said there was much room for improvement when it came to housing design.
"For example, most affordable housing projects have been designed without taking into consideration the safety of children.
"We still have low railings on the higher floors of apartments," he added.
According to forum curator, Wan Sofiah Wan Ishak, the forum is a platform for open discourse and deliberations on affordable housing in a bid to seek solutions for the public housing sector in Malaysia.
"The basic living needs for housing are constantly evolving following subcultural changes, technological advancement and economic uncertainties.
"The challenges are organic and non-static.
"It requires progressive, adaptive solutions as the basis to devise and revise housing models," she added.
(Source: The Star Online)